Some highlights from the Women's Studies Archive:
1990

With a generous grant from alumna Julia Boyer Reinsteing'28, the Women's Studies Program was established at Elmira College.  Julia is the central figure in this photo which documents the first event:  a lecture by Dr. Liz Kennedy, a founding member of Women's Studies at SUNY Buffalo.  She is the author of Boots of Leather, Slippers of Gold:  the History of a Lesbian Community (Routledge, 1993). 

1991
(L-R) Marissa Margosian, Lois Schoener, Liz Wavle, Ann-Marie Lagonegro, Geradine Ferraro, Jan Kather and Candace Widmer.
Using the Julia Boyer Reinstein endowment funds, EC students and faculty attended the NYWSA conference at Russell Sage College in Troy, NY. Some of them pose here with keynote speaker, Geraldine Ferraro, who was the running mate of US Vice President and presidental candidate, Walter Mondale in 1984. Ferraro also visited the EC campus during her campaign.
1992
1993
1st Annual Julia Reinstein Symposium: Women and Scholarship
Keynote: "Barbara McClintock and genetics in the 20th Century," by William Provine, Professor of History, Cornell University; special lecture "Working on gender as a gender non-conformist," by Sandra Bem, Professor of Psychology, Cornell University; panel discussion Joanna Rankin, U of Vermont, Marilyn Rivchin, Cornell, Rhonda Levine, Colgate and Carol Kelloff, Smithsonian Institution; feature film by Marilyn Rivchin and Sandra Pollick:"Never Done, the Life and Work of Alice Cook"
A panel presentation on Adolescent Women was given by EC women's studies faculty Nancy Koschmann, Kathleen Montgomery, and Jan Kather. Pictured here are also the students - Colby and Kristin -who revived the women's student journal CALLISOPHIA in 1993. Trish and Lori, EC alums living in the DC-Baltimore area, made a special trip to hear their former professors speak at this national women's studies conference.
Front: Colby Keyser, Kristin Baron, Heather Normandin, Trish Kennedy, 
Lori Stanton, Jess Montgomery; Back: Liz Wavle, Candace Widmer, 
Nancy Koschmann, Kathleen Montgomery and Jan Kather
1994

A trip to nearby Women's Rights Historical Park, Seneca Falls, NY.
1995
The 2nd Annual Julia Reinstein Symposium: The Woman in the Body featured speakers Dr. Joan Jacobs Brumberg and Dr. Paula Rust, along with panel members from the field of medicine Susan Smith, MD and Lisa Garceau, CNM. Criminal Justice professor, Dr. Regi Teasley, organized this event.

Students and faculty presented papers at the NYWSA hosted by SUNY Plattsburgh in 1995.
Cornell art professor Gail Scott-White discusses her installation

based on Freud's notorius psychological studies of Lucy and Dora in EC's
George Waters Gallery.
11-14-95: Women's Studies student Andrea Tillinghast'96 with Paula Giddings, the 1995-96 Phi Beta Kappa speaker who is talking with Tyrone Marsh'96 about the "Million Man March on Washington" at a morning brunch.
1996

In 1996 the Women's Studies Program brought EC alum Susan Douglas'72 to be the keynote speaker for the 3rd Annual Julia Reinstein Symposium: Women and Popular Culture.  She spoke about her book Where the Girls Are: Growing Up Female with the Mass Media.
Susan Douglas talked informally with symposium attendees in the Hamilton Great Hall, a room restored with funding from Julia Boyer Reinstein.
EC students and faculty presented papers at the 17tn Annual NWSA conference at Skidmore College in 1996.
1997
Exploring the topic "Women and Work," the 4th Annual Julia Reinstein Symposium included speakers Dr. Lourdes Beneria, Cornell, Dr. Phoebe Jones Schellenburg from the Women Count Network in Philadelphia, and Dr. Randy Albelda, UMass at Boston.
Over 50 people attended the Women and Work symposium held in the Hamilton Great Hall.
1998
The 5th Annual Julia Reinstein Symposium: "Objection Sustained: Reconstructing Barbie" was the first symposium to focus on student research, beginning the tradition of women studies students organizing the future Julia Reinstein Symposia. Pictured here are the organizers and presenters: (l-r) Lauren Katchen, Mariko Kunimoto, Jan Kather, Amanda Wray, Sally Shull, Suzanne Morrison and Geri Britton.
1999
The 6th Annual Julia Reinstein Symposium titled "To Be Real: The Changing Face of Feminism" brought Rebecca Walker, a noted author and contributing editor to Ms. Magazine who founded Third Wave Direct Action Corp., a national non-profit devoted to cultivating young women's leadership and activism.  After her talk in Gibson Theatre, students and faculty joined her at a book-signing at Barnes and Noble in Consumer Square, where she signed her new book To Be Real. Sitting next to Ms. Walker is symposium chair, Amanda Wray'99.
2000
Speakers for the 7th Annual Julia Reinstein Symposium's Captive Audience: Violence Against Women included Dr. Robert Heasley, the director of Men's Studies Program at Ithaca College and Dr. Andrea Parrott, Professor of Human Ecology at Cornell University. Singer Lisa Cerbone also performed.
2001

Patricia Ireland, President of NOW spoke in the Campus Center Dining Hall of Elmira College with a book signing following in Tifft Lounge. This event was organized by student Heather Wellman'01  of Scarborough, Maine, after completing an internship at the National Action Office of NOW in Washington, D.C.

Patricia Ireland with Dr. Mary Jo Mahoney
The 8th Annual Julia Reinstein Symposium topic was "The Body Politic: The Body Personal." Pictured here is  Keynote Speaker Zillah Einstein, Professor of Politics, Ithaca College  who spoke about "Man-Made Breast Cancers" from her book of the same name. (Cornell Press, 2001)
2002

The
9th Annual Julia Reinstein Symposium was titled
Global Feminisms: International Women's Movements, with
Dr. Christine Eber, New Mexico University and author of Women and Alcohol in a Highland Maya Town speaking on "Women and the Struggle for Social Justice in Chiapas, Mexico." She was joined by Dr. Mariam Khawar, an EC Professor of Economics, who spoke on "Pakistani Women: an Inside and Outside View."
2003
Dr. Charlie Mitchell was the first male Women's Studies Coordinator. He worked with student Cassie  Coombs'03 and Julie Thompson'03 to plan for the 10th Annual Julia Reinstein Symposium: Women and Athletics.  Mariah Burton Nelson was brought to campus to speak about women and athletics after Title IX. Dean Pat Thompson gave a presentation about the history of athletics for women at Elmira College.
2004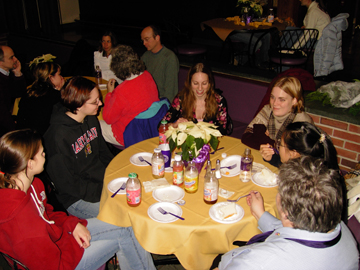 Annual Solstice Party, 2004

2005
The 11th Annual Julia Reinstein Symposium: Love, Dating, Sex and Relationships Keynote speaker was Dr. Paddy Welles, author of To Stand In Love. Paddy conducted a workshop after her talk and then joined symposium organizers for dinner in Simeon's. Women's Studies student Minh-Chau Tran performed "Music Inspired by Love" as an evening piano recital in Tifft Lounge.

Paddy work-shopped with students and faculty after her talk on finding passion in our lives.
Seated from left: Dr. Paddy Welles, Liz Wavle, Laurie Shunney'07 and Kristyn Scott'06. Back: Minh-Chau Tran'07, Aymi Fukada'08, Jan Kather, Faith Weeks'05, Grace Kozik'07, Jenna Wilson'07 and Krista Veblen'07.
Students and faculty pose with Nanny Diary authors Emma McLaughlin (3rd from right) and Nicola Kraus (2nd from right) after a reading from their latest novel Citizen Girl in Tompkins Lounge.
Dr. MaryJo Mahoney, GTLibrary Director Liz Wavle and Ms. Julie Spicer share their different stories about marriage and family.
EC Dining Services kindly created a "Snow Woman Cake" for the Annual Women's Studies Winter Solstice Party.
2006
Theatre major Donna Acquavella'06 reads from Margaret Cho's I Have Chosen to Stay and Fight as part of the 12th Annual Julia Reinstein Symposium: Gender and the Media. Other speakers were students from SIFE, Rhi Strano'07, Krisa Veblen'07 and Grace Kozik'07. Ithaca College professor Dr. Patty Zimmerman (who also presented at the 3rd Annual Julia Reinstein Symposium) discussed Australian artist Tracey Moffat's mashup film titled Love.
2007
Students invited Dr. Martha Easton to deliver the keynote speech "What Is Gender?" for the 13th Annual Julia Reinstein Symposium: Gender Matters. Student presentations were offered by SIFE, Caitlin Gifford'08, Rhi Strano'07, Ashley Krentz'07, Corey Columb'07, Grace Kozik'07, Allison Escher'07 and Kristin Veblen'07. A big snow storm caused a cancellation of the Alligator Mouth Improv group, who eventually performed as part of the 2009 symposium.
Students, faculty and staff convened for the Women's Studies Annual Autumn Get-together at the Campus Center.
It has become a Halloween tradition to attend one of Dr. Glenn's talks about witchcraft in America. Students and faculty sometimes dress up as witches, giving out candy wrapped feminist facts.
2008

Artists Wilka Roig and Tarrah Krajnak were featured speakers for the 14th Annual Julia Reinstein Symposium: Through a Feminist Lens.
Vagina Monologues
directed by Brittany Morin-Mezzadri'08
In the Fall of 2008, just in time for the Presidential election, the Women' Studies Program organized a panel discussion on Politics, Gender, and the Media.  Students Samuel Moch Rothenberg '11 and Abby Zeigler'10, along with Dr. Jim Twombly, Dr. Myra Glenn, Dr. Corey McCall, Dr. Lauren Shaw discussed how gender is portrayed in the political media.  Dr. Martha Easton moderated the debate.
2009
Body image was the theme of the 2009 Reinstein Symposium.
Student presenters for the 15th Annual Julia Reinstein Symposium were Melissa Sullivan'11 and Briana Serafino'11 who discussed the gender stereotypes found in Disney films. They were joined by other students who presented papers on their research projects: Christina Clements'09, Abby Zeigler'10, and Chelsea Bailey'10. Dr. Lauren Shaw introduced the film Killing Us Softly 3 and led a discussion afterward.

Alligator Mouth Improv performed in Tifft Lounge as part of the 15th Annual Julia Reinstein Symposium.
Vagina Monologues 2009 directed by Kayleigh McFarland'07

In honor of International Women's Day, students in the Feminist Issues seminar raised money to help female entrepreneurs worldwide through Kiva.org.  By re-loaning the funds, we have helped 9 women so far.  Check the progress at our Women's Studies Kiva webpage.
We had several faculty lectures events to celebrate National Women's History Month in March 2009.  Dr. Robin O'Brian and Dr. Mariam Khawar gave a talk about perspectives on motherhood from the disciplines of Economics and Anthropology.  Dr. Myra Glenn discussed how the Seneca Falls Convention in 1848 was central to the creation of a Women's Rights Movement in the United States.  Dr. Charlie Mitchell discussed messages of masculinity in the mass media.  Students from the Feminist Issues and Theory seminar sponsored a showing of the film Iron Jawed Angels, about Alice Paul's life as a feminist activist.  
In the Fall of 2009, the Women's Studies Program sponsored several talks and 
discussions, including one by the artist Diane Cox (Alfred University) 
and Engineer Linda Jones (Smith College).  In their lecture then discussed environmental issues, women in engineering, creativity, and using a problem-solving mentality for global environmental issues.  
2010

2010 Director of the Vagina Monologues, Hannah Kolesar'10,
receives flowers and applause at the end of the performance.
The Thursday night cast and the Friday night cast of the Vagina Monologues photographed in thetraditional spot: Tompkins corridor "backstage."
The 16th Annual Julia Reinstein Symposium "Celebrating International Women" keynote speaker: Jesse Kabwila Kapasula.  Her talk was titled:  "Feminist Agency in the Age of Beyonce's 'Single Ladies':  Faces of International Feminism in Transnational Popular Songs."
Keynote Address Click the Play button and then wait a few moments for the audio to load ...
In addition, Dr. Robin O'Brian presented a talk titled:  "Indigenous Women Activists: Examples from Chiapas".
From left to right:  Raven See'11, keynote speaker Jessie Kabwila Kapasula, Fiki Mahlangu, Joe Fahs, Melissa Buck'10, Kerrita Mayfield, Allison Fischer'11, Martha Easton, and Abby Zeigler'10 after the keynote address
Students Hannah Kolesar'10 and Melissa Buck'10 presented their original research project at the 2010 Symposium, as did Abby Zeigler'11.

WOMEN ARTISTS: AN INVITATIONAL SHOW
Including videos by Kika Nicolela (Brazil), Nung-Hsin Hu (Taiwan),  as well as American artists Andrea King, 
Carla Stetson, Janet Shaughnessy, and Jean Locey
2011
The 2011 Reinstein Symposium started with a keynote address from alumna Dr. Susan Douglas from the class of 1972.   She visited campus to talk about her new book, Enlightened Feminism: the Seductive Message that Feminism's Work is Done. Her argument centered on the idea that media messages about women suggest that women are powerful, strong and completely equal to men, while in real-life, this is not necessarily the case. Do we still need feminism? These powerful images of successful women suggest that we no longer need to fight for equality. In addition, ironic sexism had become mainstream, and with a 'wink,' we can all settle in to watch degrading and sexist images of women in the media, and even enjoy ourselves. How does this impact young women? How can we continue the fight for equality for women?
Susan Douglas outside of Hamilton Hall.  For more pictures of Susan's visit,  look at the "20th Anniversary in Pictures" link.
Raven See'11, the President of the Gender Issues Group, 
introduces Susan Douglas '72 before her keynote lecture.
On day two of the symposium, students presented original research presentations on gender topics.  Raven See'11 discussed the erasure from our collective consciousness of the radical gender activism that helped found Elmira College.  As the first college to educate women with a college degree equal to that of men, by 1900, Elmira College had education 1/10th of the college educated women in America.  And yet our "storied history" often downplays the radical gender activism that gave us our start.  Donna-Lee Hughes'11 discussed the history of the Equal Rights Amendment, and encouraged us to get on board with the 'three states' strategy for ratification.  Maegan Morin'11 discussed her research on gender roles and how advances by women in wages threaten the patriarchal structure of families.  Even with changes in law and the economy, gender roles still hold enormous power.
Dr. Barbara Snedecor presented a lecture on the letters of Olivia Langdon Clemons between the year 1864 and 1874, 
when Olivia was a student at Elmira College through her marriage to Samuel Clemens and the birth of her first two children.  
College Librarian and Archivist Mark Woodhouse, on the fourth day of the symposium, gave a talk titled "Elmira College Women:  Higher Education and Work (1880-1920).  His focus was on the lives of early Elmira College graduate, through their letters and photographs.  What was college life like in the 1880s?  What did our graduates do with their lives?  Following several notable graduates and professors, this talk showed how the women of the early Elmira College years influenced such things as the suffrage movement, government policies towards Native Americans, and the early social work movement.  Some of these women were some of the first female faculty members in colleges across the country, and one graduate was the second woman elected to Congress in the United States.  
College Librarian and Archivist Mark Woodhouse discussing  
Elmira College's early days of offering higher education for women
The symposium closed with a two-night series of performances of the Vagina Monologues.  The student and faculty ensemble cast was directed by Raven See'11.  The show opened with a spotlight monologue memorializing several of the great feminist leaders who died in the earthquake in Haiti.  And it focused on the harrowing conditions in which the women who survived are now living.  In addition to a number of the beloved traditional monologues, Kasey Tapper'12 read an original monologue written by Christina Clemens'09.  Josh Lindgren'12 also performed an original monologue that he wrote himself.  The performers played to full houses on both nights, and used the event to fund-raise for a great cause, Women for Women International. 
The Vagina Monologue cast on closing night
FALL 2011: We started the year with our annual Women's Studies Pizza Welcome event, held in the 1855 Room.  Faculty and students met to mingle and talk about great new ideas for events and plans for the year.
On November 16th, Dr. Charlie Mitchell gave his popular lecture on
masculinity and the mass media.  
This term, we started a new reading group.  Students and faculty, led by Dr. Corey Stilts, have been meeting to read The Hunger Games trilogy over dinner in Simeon's.  
The Women's Studies Program co-sponsored a showing of the classic film 'Alien' along with the Chemistry Club in January 2012.

The Annual Julia Reinstein Symposium in 2012 was titled:  
"Uncertain Times: Women Around the World"
In addition to some excellent student research presentations and a screening of the film Persepolis, the 18th annual Julia Reinstein Symposium featured a keynote address by Professor Janice Levy, who discussed her experiences teaching photography at a women's college in Saudi Arabia.  
Student presentations included:
Kay Resch'14
"Breaking the Silence on Teen Dating Violence"
Kristina Kalolo'12
"Maternal Education's Impact on Female Malnutrition in India"
Tiffany Goonetilleke'14
"Women in the Military"
Lecrecia Mena'13
"Empowering Women in Least Developing Countries:  the Power of Microfinance and Education"
Michelle Buchanan'12
"The Public Restroom:  Reinforcing Gender Stereotypes"

Image by Michelle Buchanan '12
Student Presentations:


Monday, January 30, 2012
10:20 am

Harris 02
Kay Resch'14
"Breaking the Silence on
Teen Dating Violence"
Kristina Kalolo'12
"Impact of Maternal Education on
Female Malnutrition in India"
Wednesday, February 1, 2012
11:30 am - 12:30 pm

 Tripp Lecture Hall

Tiffany Goonetilleke'14
"Women in the Military"
Michelle Buchanan '12
"The Public Restroom: Men and Women"

Lucretia Mena'13

Film and Discussion:
Wednesday, February 1, 2012
4 pm

Gannett Tripp Library
 Tripp Lecture Hall


Screening and discussion of
Persepolis
Dr. Robert Shephard will offer introductory remarks.
Poignant coming-of-age story of a precocious and outspoken young Iranian girl that begins during the Islamic Revolution.
The Vagina Monologues 2012
Katya Harris'12 and Cassie Anderson'12 directed the Elmira College production of the Vagina Monologues, performed in Meier Hall.
For International Women's Day, March 8th, Dr. Lauren Shaw gave a talk entitled "Women are Heroes" ("Las mujeres son héroes") in the Tifft Lounge.  
Exploring concepts of masculinity as part of Women's History Month
GIG: The Ideal Man
presented by Jamieson Riling '14 and Lucky Ovalle '15
Roman Masculinity at the End of the Republic
presented by Dr. Joseph Lemak
Annual Elmira College Alumna Art Exhibition:
Jacqueline Satterlee '67
WAGS First Annual Fall Symposium: 
No Place for Hate: The Costs of Bullying
A lecture by Dr. Bill Pruitt: "Bullying as a Crime: Is Today's Bully Tomorrow's Criminal?"
A discussion on bullying moderated by Jamieson Riling '14 "Shake the Hand that Hits You" 
Annual Fall Pizza Get-Together
Jan Kather, Martha Easton, Leita Powers, Bethenie Pinney, Liz Wavle-Brown, Tiffany Goonetilleke, Laura Trapletti, Jamieson Riling and Kay Resch
2013
Fifty Shades of Grey Panel Discussion
Dr. Martha Easton introduces the panelists:
Laura Trapletti'13, Dr. Anne Bizub, and Jan Kather
La
ura discusses the troublesome issue of rape.
Dr. Bizub
points out the double standards
for men and women expressing their sexuality.
19th Annual Julia Reinstein Symposium
Women's Bodies and the Politics of Reproduction 
19th Annual Julia Reinstein Symposium Schedule:
Feb. 6
Keynote Address by 
          Leslie Danks Burke: Birth Control to Binders: What's Next for Women after 2012
11:30 AM in the Tripp Lecture Hall of the Gannett-Tripp Library
Feb. 7
   Student presentations by Bethenie Pinney'14, Leita Powers'14 and Laura Trapletti'13
10:00 AM in the Peterson Chapel of Cowles Hall
Feb. 7
   Workshop for Students: Healthy Sexuality and the Prevention of Sexual Violence facilitated by Planned Parenthood
7:00 PM in the Cowles Hall Parlors


2013 Women's History Month Lecture Series
Dr. Samuels with Liz Nielsen '14
Dr. Shirley Samuels at the luncheon before her talk
for Women's History Month: Women and Sculpture
in 19th Century America (3-13-2013).


20th Annual Julia Reinstein Symposium Speaker
Judge Elizabeth Garr
y
2015